In a world of attention economics, you want to make sure you're in the first row of your customer's thoughts. To pop-up in his head when he needs a service like yours, and to reach him anywhere at any time.
In order to have that spot saved, you may need to consider Push Notification as an integral part of your marketing strategy, to keep your customers informed about your latest updates, offers, announcements, and much more. This feature works like magic in main channels like web and mobile apps to attain the best presence of your brand in any interface. Web and mobile push notifications will keep your brand top-of-mind.
Lagorta and Push Notification Marketing
So you have a website where you publish content that educates customers and promotes your products, how do you not lose them in a world of infinite competition? Well you do, unless you keep them on their feet. Lagorta values Push Notifications for this exact reason; although it could be a double-edged sword if used wrongly, the advantages are vast! Developing relevant, personalized and appealing messages helps you get higher engagement and conversions.
Lagorta would never miss on something that is so efficient in elevating the marketing performance of your business. Because a push notification -whether it be mobile or web- is like a sprung up thought, you need to utilize it to say exactly what your customer wants to hear and present it in a beautiful way. Now buckle up and see what we can do to your business with just one marketing channel to make sure your customers stick around.
Web Push Notification Marketing
Your customer is already on your website, they're already interested enough in getting something out of it, so why not take advantage of their interest and get what YOU want from them? Lagorta exploits the web push notification in favor of your business, whether by reminding them of their abandoned carts, alert a deal of the month to catch their attention (everybody loves a good deal, right?), breaks an offer to them, personalizes a recommendation based on their past actions, or even to happily notify them that something is back in stock.
The power of a good web push notification is not to be dismissed, not with Lagorta. To create the notification wanted, we follow some basics that are necessary to reach the desired outcome, let's have a look:
Personalization
Everyone likes to be the center of attention, so make your customer feel like one. Lagorta personalizes messages that will guarantee the highest CTR because we put a lot of effort in making sure the customer feels involved without annoying them to avoid high bounce rate.
Rich Template Builder
Customers will see the notification before they get to read it, so composing messages that will catch the user's eyes is a crucial part in creating web notification. See when it comes to numbers, we know that attractive content and CTA get 40-60% better results, so Lagorta will always put the aesthetics of your business top priority.
Automation
Through data-driven marketing tools, customers activities are tracked and gathered, and then web push notifications are automated according to these collected data to notify customer based on customized triggers. Lagorta cherishes your time; like so, we want you to sit back and not have to worry about monitoring every web push notification you send out.
A/B Testing
Highly customized web notifications can easily generate more conversions. Allow us to help you detect when to send the notification, what design will attract the user, and what content exactly will attract your customer and have their eyes glued to the notification.
Frequency Capping
Remember when we said that push notifications could be a double-edged sword? We help you avoid repetitive messages through capping the number and frequency of notifications directed to a single customer.
Now that we covered the most important keys when creating web push notification, and before diving into mobile push, know what we can do? Pave the way for your customers to find your mobile app through a web push so that they download it, you get your brand to be closer to them, and through the app you will have a deeper understanding of their interests.
Mobile Push Notification Marketing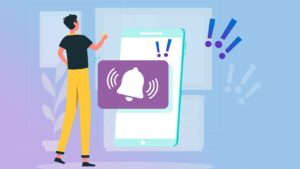 Mobile apps have become a revolutionary channel for any business, especially in marketing, as it gives your business an instant way to reach customers, along with understanding their online behavior deeply.
If your customer is scrolling on their phone, Lagorta will study their activities and behavior before putting in the perfect plan to squeeze into their minds with your brand. Whether it is by welcoming them as new users, re-engaging hibernated customers, or merely reminding them of you to steer clear app un-installment.
Mobile push notifications are app installed, and they target the app users only, making your message clear and well-designed as per each user. It promotes offers, upgrades, new or back-in-stock products, limited-time promotion and informs customers with new features and announcements. You can also make them more customized such as sending birthday celebrations, thank you notes, and special discounts.
Long story short, if you want loyalty and engagement, you need to start adding mobile push notifications to your marketing strategy. They are like a weapon that you can never go to war without, and Lagorta never loses a battle.
How to Create the Best Push Notifications?
Tailor a personalized web experience that fits each user
Use appealing content
Use data analytics tools to optimize your message
Put deep links to take your users to specific pages
Engage customers with contextual alerts towards monetization.
"You've Got a Notification!" More than Conversions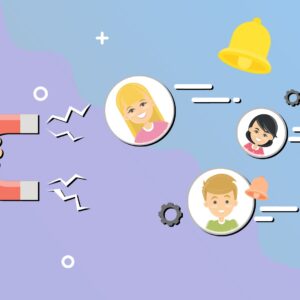 Using Push Notification Marketing on your website or mobile app drives up your conversion rates and enhances your understanding of customers, and how they react to your promotional or educational content.
Also, it allows you to get data from surveys, polls, or ratings, which gives you a good idea of how you can upgrade and enhance products.
Lagorta uses data-driven marketing tools that will help you -through data and real-time analytics- to design the best push notifications.
We use this game-changer marketing channel to any business that wants an instant reaction from their customers; so basically any and all. We know you don't want your business to miss on this, and as they say, keep your friends close and your customers closer!