SMS technology has been the very first "Short Message Service" that came to life in 1984. The first SMS to a cell phone was sent in 1993 and since then SMSs are popping out on all mobile phones. Today, we may receive an average of two messages per only one hour.
In marketing, SMS is still one of the main reliable promotional channels, as it is an all-time open way that reaches customers at any time, even if they are offline.
But we need to dig deeper and find how we can make the best out of SMS in marketing, and what are the advantages and disadvantages of this medium.
Is SMS still alive?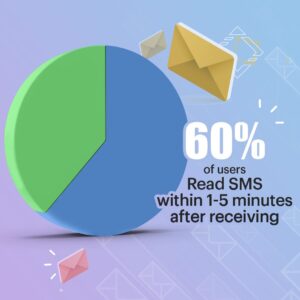 SMS is one of the most used communication channels in the business. More companies are adopting SMS marketing strategies to expand their reach and capture a larger share of the market, as billions of numbers across the world can receive text messages.
60% of customers read them within 1-5 minutes after receiving them, and their conversion rate is higher than any other channel by 9%!
That is why SMS is still an effective channel that your business should depend on, enhanced by other ones.
How to use SMS marketing for your business?
The main goal of SMS marketing is reaching customers through a fast and available channel. This channel can be a lot more efficient through more analytical data about your customers' demographics, interests, locations, etc.
In addition to that, optimizing your marketing message is essential to achieve your goals. Keep in mind the following features while putting together your content:
Make your message concise and to the point
Use direct and clear CTA
Customize content for each category of customers using your segmentation study results.
Send to subscribed customers
Send messages at convenient active times, when customers will most likely open your message.
Focusing on categorizing your audience and creating attention-grabbing messages largely contributes to the success of your SMS campaigns. However, we need to investigate the advantages and disadvantages of SMS marketing to customize your strategy accordingly.
Advantages of SMS Marketing
SMS marketing has many benefits for your business that make it a very powerful tool. Let us name a few of them.
Personalization
SMS messages can be customized to address each group of your customers, which guarantees higher interaction and consequently a higher open rate.
Working Offline
Sending SMS does not need an online connection, works offline, and customers can receive it any time; day or night.
Cost Effective
SMS Marketing is one of the most affordable forms of advertising. It gives your business access to a huge database of users at a monthly flat rate through many vendors.
High Open Rate
SMS Marketing has a high-sky open rate as around 95% of mobile users open text messages, which means that almost all your customers will have a look at your message.
Disadvantages of SMS Marketing
On the other hand, SMS marketing has some limitations you should take into consideration while integrating it into your cross-channel marketing mix.
Short Text
SMS has a fixed short length. The character limit for a single SMS message is technically 160 characters, and if you exceed this number of characters you will pay more, and the text will be divided into two messages, which will be annoying for customers.
More importantly, modern mobile users are overwhelmed with tons of marketing messages every day, you only have a couple of seconds to attract his/her attention with your text.
So be concise and to the point:
Not Engaging
You may get higher conversions from SMS, but almost no engagement or interaction, as it is a one-sided channel. You need to build your campaign to be informative for raising awareness about your product or service and let engagement for other channels.
Not a Primary Channel
SMS Marketing performs adequately in conversions and direct reach but will stay as part of your strategy, and you need to enhance its competence with the support of other channels like social media, email marketing, and others.
How does SMS Help with Data-driven Marketing?
Data-driven marketing tools like Lagorta enhances your SMS campaigns by personalization, generating short links, SMS tracking, and others. It depends on collecting data from the history of customers, their interests, and choices to optimize your future campaigns and reach the best results.
It brings all data, tactics, and marketing kit in your hand to manage smartly any time-consuming processes like sending different versions of the same message to know which one will be more compelling, filtering your dictionary from any blacklisted words, and eliminating any invalid numbers.
At the end, your brand messages will reach out to an audience that is genuinely interested in your product/service, rather than mass messaging that will negatively affect your brand. Data-driven marketing tool is the key.
It is the most intelligent decision you can make to use data-driven tools to run SMS campaigns, along with other marketing channels, making them all work at the same pace towards the same target.
Conclusion
Marketing is enormous and needs a lot of effort and creativity to succeed in reaching customers, satisfying their needs, and achieving your business goals.
SMS is one of the important channels you cannot ignore, although the high competition in other channels like social media, it is a short way to customers that you must keep using. Get aware of its advantages and disadvantages to launch a successful campaign every time.
Also, do not forget to work smart by using data-driven marketing engines to manage SMS and fire exceptional impact.